The 2022 Subaru Love Promise Customer and Community Commitment Award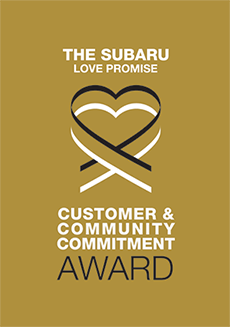 We've been nationally recognized for our dedication to our customers, our community, and the Subaru Love Promise.
We're honored to receive the 2022 Subaru Love Promise Customer and Community Commitment Award. This award nationally recognizes elite Subaru retailers who provide an exceptional customer experience at every interaction with Subaru. These retailers have also demonstrated an outstanding commitment to supporting passions and causes in their local communities in important areas such as the environment, community, health, education, and pets.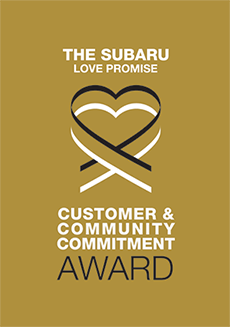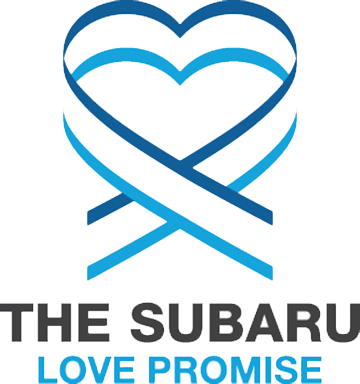 What is the Subaru Love Promise?
Subaru and our retailers believe in making the world a better place and the Subaru Love Promise is our vision of respecting all people. This is our commitment to show love and respect to our customers and to work to make a positive impact in the world.
How is West Houston Subaru dedicated locally to the Love Promise?
Our Love Promise can be seen in various partnerships with local charities and non-profits. We're grateful for the opportunity, not only to be a part of our community, but to serve it as well.
Citizens for Animal Protection
Trees for Houston, National Wildlife Federation
Adopt A Classroom.org, Wolfe Elementary, Wolfe High School
Salvation Army Angel Tree Program
Meals on Wheels, Leukemia and Lymphoma Society
Love Promise Stories from West Houston Subaru
Subaru and West Houston Subaru believe in making a positive impact on the communities in which we live and work. We uphold that belief through our Love Promise Community Commitment. Every month, we select inspiring stories from customers and partners from around our area who strive to support our collective commitment and feature them here
West Houston Subaru Shares the Love with Citizens for Animal Protection - Bianca B
Citizens for Animal Protection is incredibly honored to receive Share the Love donations from West Houston Subaru and Subaru of America! Words cannot express our deep gratitude and appreciation for the overwhelming support you give so generously. As we look for innovative new ways to promote pet adoption we know that our efforts will be supported by these generous gifts. This support allows us to get creative and offer many fun and exciting adoption events throughout the year which West Houston Subaru attends and meets the adopters and makes each pet a pet ID tag for each one. The Subaru Share the Love Hometown Charity money of $42,338 plus the West Houston Subaru annual sponsorship of $25,000 will support an additional 850 pet adoptions during 2022. West Houston Subaru has sponsored 14,431 pet adoptions at Citizens for Animal Protection over the last 10 1/2 years. Thank you West Houston Subaru and Subaru of America for being there for there to support our furry friends!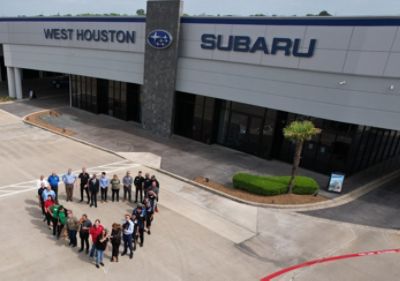 ---
West Houston Subaru Sponsors All Special Needs Adoptions at Citizens for Animal Protection - Bianca B
Thank you West Houston Subaru for supporting CAP by sponsoring the adoptions fees for all special needs pets throughout 2022! Special needs pets are often overlooked at shelters because people feel they are too difficult to care for or just aren't "perfect", which leads to taking longer to find them homes than other pets. By sponsoring the adoption fees for special needs pets throughout the year, West Houston Subaru is raising awareness for these special pets and showing the world that they are in fact worth every bit of love from a forever home. So far this year, West Houston Subaru has sponsored the adoption fees for 46 special needs pets, giving them the boost they needed to get adopted and finally take their road trip home. The entire CAP community is honored to receive such support from WHS and we look forward to seeing who will be adopted next!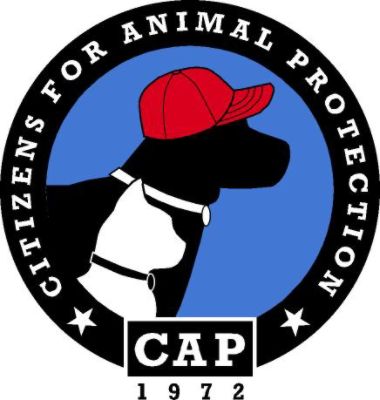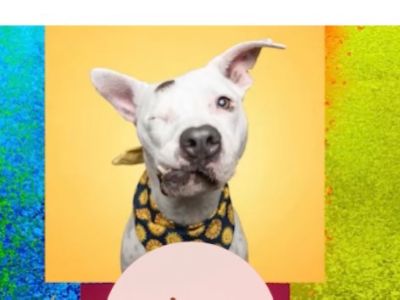 ---
West Houston Subaru and Texas Children's Hospital Love to Care - Greg C
On Wednesday, June 29th 2022, the Leukemia and Lymphoma Society's (LLS) Houston chapter and West Houston Subaru had the privilege of delivering blankets and messages of hope cards to Texas Children's Hospital – West Campus as a part of the Subaru Loves to Care program. We all had the privilege of welcoming one of our local honored hero's, Manny, join us! Manny is a 12-year old boy and a Leukemia survivor. He was so elated to come and meet everyone, take photos, and share in this special day. Manny's smile is infectious and such a huge reason why we do what we do. Subaru corporate staff also made the visit for Manny's appearance – a true highlight and inspiration. The turnout was truly remarkable. Bringing meaning, hope, and purpose to cancer patients are inspiring moments that make all our work that much more special. Our LLS partnership with Subaru exists to bring warmth, love, and hope to cancer patients. Thank you to West Houston Subaru and Texas Children's Hospital – West Campus for not only for an impactful and memorable day, but for supporting LLS's mission to cure blood cancers and improve the quality of life of patients and their families. Together, we are making a significant impact in the lives of cancer patients. Until there's a cure…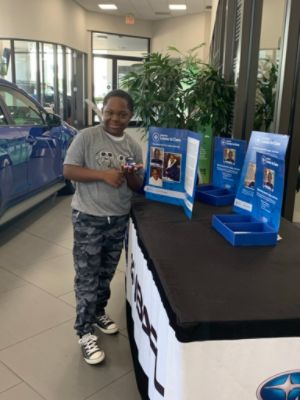 ---
New Crosstrek! - Dannielle G
My lease was up on my 2019 Crosstrek and I tried to get ahead of the game by ordering my next car before my lease ended. I am not a fan of having to deal with dealerships or sales people, because I am a single female and just feel like I am being taken advantage of. My brother-in-law, who runs a dealership in NY, found me Chris Louis at West Houston Subaru (I picked the dealership because of all the community work they do, especially with CAP). I exchanged texts with Chris and we scheduled a time for me to come in and go over everything; this was in March of 2022. From the get-go, Chris was just perfect for someone like me - I just need a reliable car, no "bells & whistles", just a good car with a good deal. He heard me and treated me with respect and didn't try to upsell me with a thing. He was very good at making sure of the differences of the models and confirmed what I really did/didn't need or want - that is the biggest difference compared to constant upselling. We stayed in constant contact and when my new Crosstrek finally arrived (June 2022), I was over the moon. Chris made it all as smooth as possible and was as patient as he could be. I told him I would follow him to any dealership going forward and made sure to sing his praises to the manager on duty. I am in love with my new car and I am truly grateful for the entire team, Troy included, at West Houston!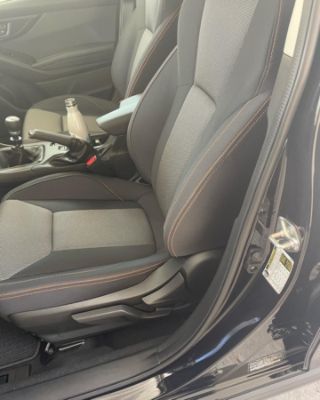 ---
Rest in Peace - SG P
LAST MONTH, WE FOUND OUT THAT A FORMER EMPLOYEE WAS VERY ILL AND HOSPITALIZED. WE REACHED OUT TO HIS WIFE TO CHECK HIS CONDITION. IT TURNS OUT THAT HE WAS SICKER THAN WE ANTICIPATED. HIS WIFE INDICATED THAT SHE WAS SPENDING MANY HOURS AT THE HOSPITAL. ONE DAY AFTER VISITING HER HUSBAND SHE SCRAPED THE FRONT PASSENGER SIDE OF HER ASCENT CAUSING THE COVER FOR THE FOG LIGHT TO BREAK. SHE INQUIRED ABOUT GETTING IT FIXED SO WE VOLUNTEERED TO TAKE CARE OF THIS FOR HER FREE OF CHARGE. A FEW DAYS AFTER THIS CONVERSATION, HER HUSBAND PASSED AWAY. WE GAVE HER TIME TO GRIEVE AND TAKE CARE OF THE RESPONSIBILITIES THAT ARISE FROM FUNERAL AND OTHER ARRANGEMENTS. A FEW DAYS AFTER THE FUNERAL, SHE BROUGHT HER VEHICLE AND WE TOOK CARE OF THE REPAIR AND ALSO CHANGED HER OIL WHILE SHE WENT TO LUNCH. SHE WAS EXTREMELY GRATEFUL FOR THE SERVICE PROVIDED. REST IN PEACE TP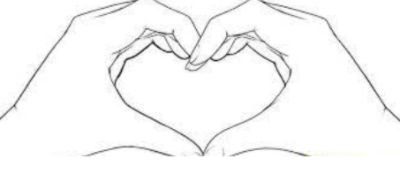 ---
The Mystical Unicorn - Anonomus W
The Unicorn The 2022 BRZ is the Unicorn in our lineup. The availability and ordering halted around February of 2022 - other than the pre-ordered cars which were and are all sold-out. It would be easier to reset an Apple password or find a child that new Playstation for Christmas than to find a NEW 2022 BRZ in a local dealership if you were looking for one. People that are determined to find one have been calling everywhere blindly without luck, but like the Unicorn it exists somewhere right; sort of. So we have been getting tons of calls from every part of the country looking for "The BRZ" calls from California, Michigan, South Carolina, Pennsylvania, the list is endless. Knowing that they are all out of state customers and that I could not sell them a car anyway why not help them and look in the Subaru vehicle locator on a national level to possibly find them one; "why not" I said to myself. Saving them the time of calling every dealership in the country to find one, if they are so determined to find one and only a NEW BRZ. (FYI - All customers that call about a BRZ only want a BRZ and nothing else.) A customer from South Carolina called and I said I would take a look and tell him where he "may" find one. I do not know for sure if it is there just that it is "in inventory" at "XYZ" dealership - The South Carolina client only wanted a white one and he got lucky, there was one in a NJ dealership - a dealer I know but do not know anyone that works there. So I directed him to check if it was still there and available. So that is what he did. He was so grateful that no one else did this for him and that he "may" have found one that he actually called Gerald to compliment me for going above and beyond for him. He drove from South Carolina to New Jersey and actually bought it. Not only a car he could not find on his own, but in his only color choice. I had another call soon after from Michigan and I directed him to an Ohio dealership and he put a deposit on one over there. The customer called me back as well to tell me. The answer I gave to both "customers" (and others) is the answer I would have appreciated if I was looking. If I actually wanted a BRZ myself, I would travel anywhere to get it - so if they were that set on calling anywhere and everywhere to find one why not tell them where they "may" find one... and some did. To me it was just the right thing to do. The Mysterious Unicorn does exists... to them at least. Steven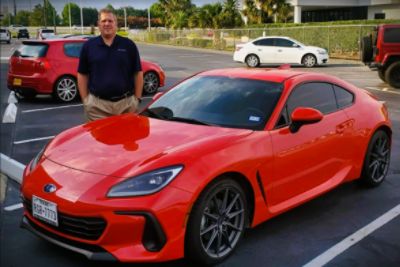 ---
Helping to Keep Houston's Homeless Warm - Mark L
Star of Hope is a Christ-centered community in Houston, Texas dedicated to meeting the needs of homeless men, women and their children. Positive life changes are encouraged through structured programs which focus on spiritual growth, education, employment, life management and recovery from substance abuse. Star of Hope thanks Subaru of West Houston for providing blankets and socks to help our most vulnerable clients. Star of Hope thanks Subaru of West Houston for providing blankets and socks to help our most vulnerable clients. The employees of West Houston Subaru held a sock drive and collected 222 pairs of socks. These socks, in hand with blankets, will ensure 222 of our clients, on the streets of Houston, will have a clean pair of socks and 102 of our clients will have a warm blanket and are able to stay warm and snug during the chilly Houston nights.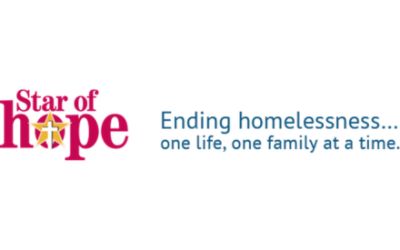 ---
Underdog Successes featuring Mino - Bianca B
Finding a home for the neediest of needy pets, our special needs pets, is one of the most challenging opportunities at Citizens for Animal Protection. It takes a special family to open their hearts and home to a pet who will need future medical care. Raising awareness for the adoption of special needs pets is incredibly important and helps find these special families. CAP is incredibly grateful for the support of West Houston Subaru in bringing attention to those pets who need help the most. Throughout October, WHS sponsored the full adoption fees for all special needs pets adopted at CAP and we are thrilled that seventeen special needs pets were adopted. One of the seventeen special pets adopted in October and sponsored by WHS is a young Retriever/Australian Shepherd named Mino who was surrendered to the shelter when his family no longer had time for him. Upon arriving at the shelter our staff noticed that his gait and walk were not normal and needed further attention. Mino spent weeks at the shelter undergoing evaluations and xrays to determine the full extent of his condition. We discovered that Mino has a congenital orthopedic defect and that with his young age of only 6 months, he will likely require ongoing veterinary care to address his health issues. Through the Underdog Adoption event we were able to find just the right family for Mino and are happy to report that he is settled in his new home and will live his best life ever. Thank you West Houston Subaru for having a soft spot for the most special of pets at Citizens for Animal Protection!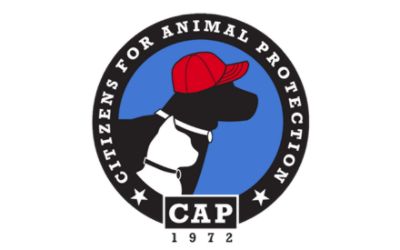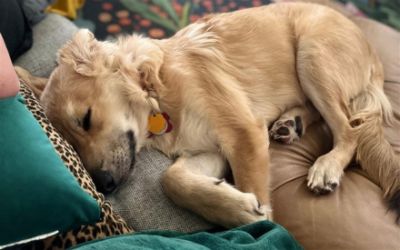 ---
A Pet's Best Friend - Mary K
Citizens for Animal Protection (CAP) just has the best neighbor – West Houston Subaru, which is owned by Gloria and Frank Meszaros. CAP is an animal shelter that serves thousands of pets in the community every year. This includes dogs, cats, rabbits, and guinea pigs. It is a major effort and expense to take in animals in need, care for them, get them placed in loving homes, provide community humane education, provide low cost spay/neuter campaigns in the community plus feral cat programs, and so much more. We could not do all that we do without the sponsorship of West Houston Subaru. Through their support, members of our community have had their adoption fees covered as part of their Share the Love campaigns. It is always a blessing when I get to see Frank and Gloria because the kindness and love that they feel for animal in need just beams with brightness across their faces. Thank you for your generosity; thank you for your MAJOR sponsorship and role in our annual Gala; and thank you for promoting CAP in your showroom!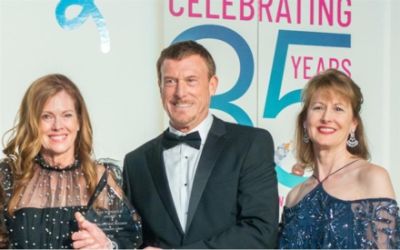 ---
Champions for pets!! - Sandi M
West Houston Subaru so generously supports Citizens for Animal Protection in so many ways. This Saturday we held our annual gala and raised nearly $800,000 for neglected, abandoned, surrendered and stray animals. We attribute so much of the evening's success to the great people at West Houston Subaru! Not only did they help us raise $75,000 through the sale of raffle tickets by donating the grand prize - a brand new Subaru Forester Premium, but they also sponsored the event themselves! Frank & Gloria Meszaros were awarded the most prestigious Pinnacle Award in recognition of the more than 13,000 homeless pet adoptions they have sponsored since our relationship started. We are grateful to the leadership, staff and customers of West Houston Subaru for all that they do to help us fulfill our mission to help Houston's homeless animals. And if all they have already done were not enough, at our gala, Gloria announced that beginning in 2022, West Houston Subaru will sponsor the adoption fees of EVERY SPECIAL NEEDS ANIMAL in the shelter for the whole year! Because of the kindness and compassion of the amazing people at the dealership, I personally, have purchased 2 vehicles from them! We love you, West Houston Subaru!!
---