The 2021 Subaru Love Promise Customer and Community Commitment Award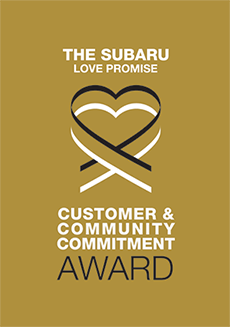 We've been nationally recognized for our dedication to our customers, our community, and the Subaru Love Promise.
We're honored to receive the 2021 Subaru Love Promise Customer and Community Commitment Award. This award nationally recognizes elite Subaru retailers who provide an exceptional customer experience at every interaction with Subaru. These retailers have also demonstrated an outstanding commitment to supporting passions and causes in their local communities in important areas such as the environment, community, health, education, and pets.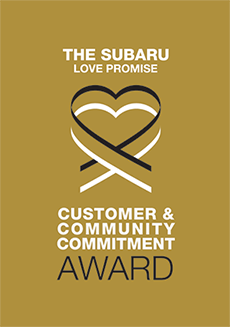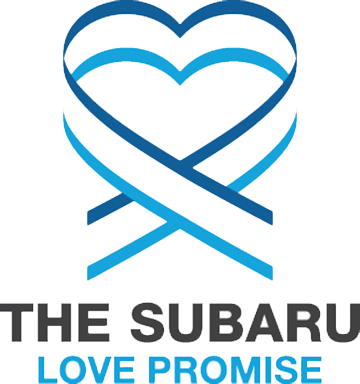 What is the Subaru Love Promise?
Subaru and our retailers believe in making the world a better place and the Subaru Love Promise is our vision of respecting all people. This is our commitment to show love and respect to our customers and to work to make a positive impact in the world.
How is West Houston Subaru dedicated locally to the Love Promise?
Our Love Promise can be seen in various partnerships with local charities and non-profits. We're grateful for the opportunity, not only to be a part of our community, but to serve it as well.
Citizens for Animal Protection
Trees for Houston, National Wildlife Federation
Adopt A Classroom.org, Wolfe Elementary, Wolfe High School
Salvation Army Angel Tree Program
Meals on Wheels, Leukemia and Lymphoma Society
Love Promise Stories from West Houston Subaru
Subaru and West Houston Subaru believe in making a positive impact on the communities in which we live and work. We uphold that belief through our Love Promise Community Commitment. Every month, we select inspiring stories from customers and partners from around our area who strive to support our collective commitment and feature them here
Suprise Gift - Anonymous A
My husband was treated for Hodgkins Lymphoma over the last two years and as you can imagine at times it was very scary for all of us. Without ever requesting anything from West Houston Subaru, one day this wonderful gift arrived, it was a blanket from Subaru and the Lymphoma Leukemia Society. As anyone that has gone through Chemo knows you get to the bone cold. He is in complete remission now, thank god! We want to express our sincere gratitude to the staff at West Houston Subaru, Subaru of America's Staff and the Lymphoma Leukemia Society. You never know who's life you will touch and what a profound gift you are giving with kindness. Thank you
---
Star of Hope Blanket Donation - Marc L
The Star of Hope is a Christ-centered community supporting Houston's homeless men, women and children. We encourage positive life changes through programs in spiritual growth, education, employment, life management and substance abuse recovery. Star of Hope thanks Subaru of West Houston for providing blankets to help our most vulnerable clients. These blankets will ensure our clients are able to stay warm and snug during the cold Houston nights. The blankets will be distributed to the homeless on the streets of Houston by our Love in Action Van. We look forward to partnering more in the future. Thank you again West Houston Subaru!
---
A Dog A Day Adoption Event - Bianca B
This past October, West Houston Subaru and Subaru of America sponsored the adoption fees for one dog every day at Citizens for Animal Protection, and helped 31 dogs find their new families! Adoptive families had the opportunity to pick a pumpkin from our pumpkin patch, and the first adopter to pick the specially marked pumpkin that day had their adoption fee sponsored. All of the dogs had huge smiles on their faces because they were going HOME, and the adopters were smiling from the generosity of Subaru. Everyone at CAP had a great time helping adopters pick their pumpkins and it was a treat to see who the special dog that day was going to be. Thank you West Houston Subaru and Subaru of America for the A Dog A Day adoption promotion and for helping more pets find homes!
---
West Houston's Share the Love Check Presentation - Bianca B
Citizens for Animal Protection is incredibly honored to receive a Share the Love donations from both West Houston Subaru and Subaru of America! Words cannot express our deep gratitude and appreciation for the overwhelming support you give so generously. In true Share the Love fashion, CAP shared the love with adopters to help more pets find homes. In addition to providing financial support for medical care to prepare pets for adoption, the donations are also used to sponsor adoption fees during special adoption events throughout the year. This Summer, CAP held a three month-long Summer Lovin' Adoption special with Share the Love money sponsoring half of all adoption fees. We are thrilled to announce that 933 pets found homes in only three months! Our passion of helping homeless pets is strengthened by the support of our community, together we can achieve great things! Thank you! Bianca
---
West Houston Subaru Donates Books to Askew Elem - Amanda P
A special shout-out from Askew Elementary in HISD to West Houston Subaru! They donated boxes and boxes of STEM books to the Library! The students were so excited to have new books to read! Gloria and her team delivered the books to the Library and were able to take some pictures of the students with the boxes of new books! West Houston Subaru also donated a wide variety of school supplies that I was able to share with the teachers here! Thank you from the bottom of our hearts! Amanda Polk Librarian-Askew Elementary
---
Happy Birthday Homeless Pets - Bianca B
At Citizens for Animal Protection, we treat each animal as as individual and strive to provide the highest quality of care possible. Our staff are experts in providing medical care, but sometimes we have no choice but to make an educated guess when it comes to their exact age. Knowing their true birthday is just not possible, so we celebrate the universal birthday for shelter pets -Dogust 1st! This year we celebrated by singing Happy Birthday and enjoying pet-friendly birthday cakes, but it is not really a party unless there are presents! Fantastically, West Houston Subaru provided ALL of our shelter pets -almost 200 cats and dogs -with fun and exciting toys to celebrate their big day. It was absolutely clear that the pets knew it was their special day and it lifted their spirits. The dogs loved playing with their Subaru squeaky toys all afternoon. It was a heartwarming sight seeing them so content and happy. Not only was it a joy seeing the pets have fun with their new toys, it was wonderful seeing how much fun the employees of West Houston Subaru had passing out the presents. Thank you West Houston Subaru for giving our homeless pets something to look forward to and thank you for being such a wonderful partner for CAP!
---
9000 Pets Found New Homes - Sandi M
For the past 8 years, Citizens for Animal Protection (CAP) has been honored to work with West Houston Subaru and look forward to what the future brings. Saying that West Houston is a wonderful sponsor of our shelter does not adequately portray the level of compassion and dedication they have given to helping our mission of sheltering, rescuing and placing homeless animals in loving homes and advocating respect and compassion for all animal life. To date, West Houston Subaru has donated more than $538,000 to CAP through general donations, Share the Love events, donations at our annual black tie gala, medical support for needy pets and impressively sponsoring the adoption fees of over 9000 of our homeless pets. That is 9000 pets who can say they found a new home with the help of West Houston Subaru! In addition to the financial donations, West Houston Subaru has donated a new Subaru to CAP each year to be raffled off during our nnual black tie affair ala, with raffle tickets sales totaling $503,000. That puts the total monetary support at over $1,000,000 which is truly amazing! This financial support has made an immense difference in the quality of care we can provide our pets while they are here, but what really matters is knowing that the people at West Houston Subaru are here to support us in any way they can. During the many adoption events at the shelter, Gloria and the West Houston Subaru staff members set up a booth and personally engrave free custom ID tags for all adopters! They usually have a gift for each adopted pet. In addition, 33 West Houston Subaru employees have adopted pets from CAP. Even their customers adopt from CAP, purchase raffle tickets each year and donate pet food and supplies. They are more than just supporters to us -they are family, with a passion for helping homeless animals.
---
"Furever" Home -"Yappily" Ever After - Amy H
Becky came to live at Rover Oaks Pet Resort in 2015. She had been surrendered to Citizens for Animal Protection animal shelter and was not adjusting well to life in a cage at a busy animal shelter. Rover Oaks has a history of working closely with shelter staff at CAP to assist with dogs that need extra time and attention. When we were asked to take on Becky we saw an opportunity to help this sweet girl find a forever home. Becky was boisterous and a very playful girl, requiring an experienced dog owner with older or no children and no other small pets in the home that might be viewed as playthings. Months turned into a year and still the right home hadn't appeared. In November of 2016, Becky injured herself playing and required an expensive surgery to repair her back knee. Our dedicated owner, decided she would bear the cost of the surgery as their was no other options for Becky. She had the surgery and recovery was quite a challenge for this your and active girl. There were quite a few inquiries for Becky but none were the right fit. In 2018, Becky injured her other knee. Rover Oaks had been caring for Becky for almost four years and knew that finding a home would be even more difficult with her latest injury. Everyone at the pet resort loved her and so we held garage sales and fundraisers to pay for the second surgery. Despite all of the employee's hard work and efforts, there was still not enough money to pay for Becky's surgery. Citizens for Animal Protection animal shelter had an upcoming adoption event. We usually have a table at the event to meet the new adopters and introduce them to our services. West Houston Subaru is always at the events as well as they sponsor the adoptions and make pet ID tags for every adopted pet. We shared Becky's story to Gloria Meszaros of West Houston Subaru with no expectations. She listened closely and then said the dealership has a fund for special needs animal at the shelter and would love to help. She even said she had adopted a special needs cat from CAP. West Houston Subaru stepped up and footed the bill for Becky's second surgery. In 2019, A newly hired employee at Rover Oaks met and fell in love with Becky. She brought her family in to meet her and we are so happy that Becky now has her "furever" home and will live "yappily" ever after with a family of her own. Thanks West Houston Subaru for helping us get Becky back in great shape so she can enjoy the home of her dreams!
---
Home Until They're Home - Warner R
The sun was definitely shining on me the day I arrived at the Mission of Yahweh to meet my friend, Kappy Muenzer, who was bringing her friend, Gloria Meszaros, to meet with me to tour the Mission. The Mission of Yahweh is a faith-based shelter that has been empowering, enriching and restoring the lives of homeless women and children by offering shelter and many life-changing programs focused on ending the cycle of homelessness and dependency since 1961. As so often happens when people become aware of the amazing work that occurs, Gloria's heart was touched; she immediately set about to facilitate a miraculous collaboration between her and her husband's company, West Houston Subaru, and an organization that the dealership partners with, Trees for Houston. Voila .. amazing 14,15-gallon trees have been planted on the Mission campus! How this beautiful addition to the Mission has enhanced the campus cannot be overstated. The experience of watching the employees from West Houston Subaru join forces with Trees for Houston to plant these glorious trees was magical and memorable. There was an unspoken joy that permeated the air that day that one could definitely feel. It was truly a "Subaru Love Promise Story". Everyone at the Mission of Yahweh is so grateful to West Houston Subaru for this amazing donation that will bring a sense of beauty, comfort, and peace to thousands of homeless women and children in their "home until they're home" for years to come.
---
Saving German Shepherds - Marie S
Ten years of saving German Shepherd Dogs! That's right, our group has been doing all that we can to save the beautiful breed from certain death at high kill shelters in the large metropolis of Houston, Texas and Harris County for the past ten years. Why? We love the breed, we love all breeds, but this one in particular because they were bred to be our companions and loyal to a fault. How can an owner throw one away? No clue.Over the past ten years we have worked tirelessly to network with the local shelters, other rescue groups, local veterinarians and animal hospitals with the hope that not only will we save more GSD's, but that we will be a part of the bigger picture of making Houston a No Kill City. We all benefit when rescue works. Over that ten years, we have saved in excess of 1,200 Shepherds from certain death. We are able to pull them from the shelters because the shelter staff recognizes this is a partnership. After a dog is "temp" tested (temperament) and determined that we can save him/her, we take them to our vets for a "once over". All shots are updated, and they are spayed/neutered. If they are Heart Worm positive, which the vast majority are, we begin the Heart Worm protocol. When the dog is ready, and cleared by the doctors, they are placed in a Foster Home.Each Foster has been approved by our rescue, the same as all potential adopters are. Home visits are done, and references checked. We do not want this four-legged canine to ever have to worry about his/her next meal, his/her next place to sleep and feel secure, who he/she can trust. When we bring them to the Foster, we call it the "Freedom Ride" because their life has just taken a 100% turn for the better. This is where the love begins, and we don't plan for it to ever stop again.Our adoption fees only cover a small amount of the cost of most of our "pulls". Depending on the age of the dog, those adoption fees can range from $250-$350. If the dog has had injuries from a life on the streets, is diagnosed with Heart Worms, has mange or suffers from malnutrition, the costs can skyrocket. Add on top of that the cost or a spay/neuter . . . well, you can see why the "Love" that we receive from the Sponsorship of West Houston Subaru becomes so vital to our mission. There are cases where our costs to save and re-home a GSD can reach the thousands of dollars. Each case is different, each case is special and each case is deserving.Our relationship with West Houston Subaru began with a simple question from one of our volunteers. "Would you be interested in becoming a sponsor of our annual fundraiser, Jingle Bell Bark & Brew?" Talk about "Share The Love". West Houston Subaru, already believing in the mission of rescue came on board with bells on. OK, maybe not bells but their first two years of sponsorship, they attended our annual event and handed out "recycled banner" leashes to many happy attendees! This past event on December 1st, they had a new model car on display, and not only handed out leashes, but also Cross Trek and Forester dog toys to many happy volunteers and event goers. They even allowed us to attend one of their events - Camp West Houston Jamboree - at the dealership where we were able to showcase some of our rescues, and hand out information about our group. West Houston Subaru's sponsorship over the past three years has had a direct impact on how many dogs we have been able to bring into our program, treat and adopt out to new homes. To that end, we were pleased to surprise them by naming one of our rescued pups this summer "Forester" as a way to show our gratitude. We took photos of "Forester in a Forester" and he put on quite a show - he's a natural. I'm happy to report that he has been adopted and is now happily residing in a family with two other German Shepherd brothers. He has graduated from his Level One Obedience class with flying colors. We could go on and on, because we are passionate about what we do. We are so grateful for this working relationship with the great folks at West Houston Subaru. They have contributed not only financially, but have helped us spread the word by offering us a platform that money cannot buy - the public! Because of them, we have been able to save an estimated additional 10-15 German Shepherds. Because of West Houston Subaru, Our Love Promise Story has a "Happy Tails" ending! Thank you.
---