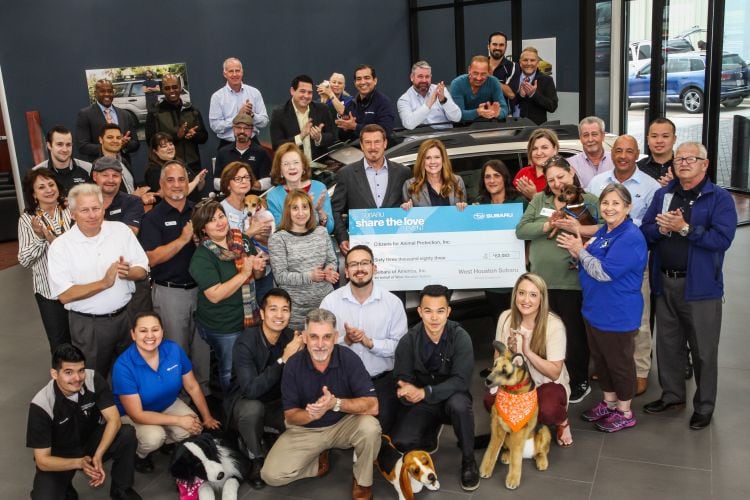 At West Houston Subaru, we love animals and have shown our support for our neighboring animal shelter, Citizens for Animal Protection (CAP), since January, 2011. During the annual Subaru Share the Love event, West Houston Subaru chose CAP as their "hometown charity". From November 18, 2017 to January 2, 2018, each time a new Subaru was purchased from our dealership, Subaru of America would donate $250 to one of four national charities or West Houston Subaru's hometown charity CAP. The dealership added an extra $50 per car sold during the event.  We were able to raise a whopping $63,083 to support CAP in helping the homeless animals of Houston! The dealership also donated $25,000 to support adoption events throughout the year. Over the last 7 years, West Houston Subaru has donated, raised or helped CAP to raise over $826,000 to help find homes for Houston's homeless animal population and have sponsored the adoptions of 6946 pets from CAP.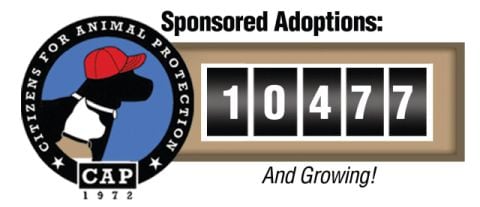 ---
Each time you purchase a car from West Houston Subaru you help us to sponsor more adoptions at Citizens for Animal Protection. 
We appreciate your support!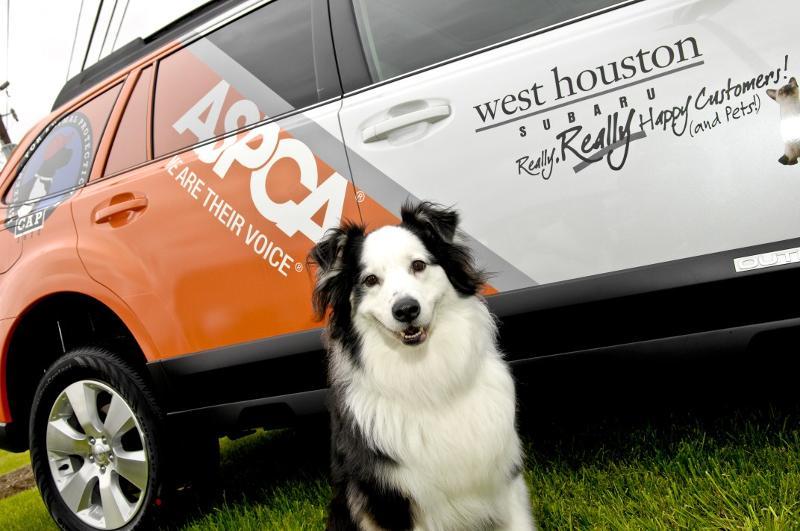 Did you know that seven out of ten Subaru owners have a pet and 60% of all Subaru owners have dogs? As part of their manufacturing process, Subaru purposely makes their vehicles dog friendly! They also support the ASPCA through their Share the Love event every December.
So it was a natural fit when Citizens for Animal Protection relocated their facility in January 2011 down the street from West Houston Subaru.  We formed a partnership to support the homeless animals of Houston finding forever homes.
Since January 2011, West Houston Subaru sponsored numerous adoption events that enabled the adoption of 5,345 homeless animals and counting at Citizens for Animal Protection.
For their annual Citizens for Animal Protection Gala fundraiser event in November, West Houston Subaru donates an all-new Subaru vehicle for CAP to raffle. In December, during our annual Subaru Share the Love Event, our dealership employees and customers to help us stuff several Subaru's with pet food and items from CAP's wish list. We packed the Subaru's with items that CAP really needed to operate the shelter including food, newspaper, paper towels, and much more.
We would like to thank all our customers who donated to CAP and all of the adopters for making 2016 such a great year for us.
Up to two weeks before each event, if you go to the West Houston Subaru, 17109 Katy Freeway, with a bag of puppy or kitten dry food or an item from CAP's Wish List you will receive a Fee Waived Adoption Certificate. Bring the certificate to the event at CAP to adopt your pet.
Dye Free Dry Dog Food is needed for orphaned kittens, puppies, cats and dogs is especially needed.  In addition the Wish List includes:
White Paper Towels, Bathroom Tissue, Copy Paper 

Office Supplies, Postage Stamps, Scotch Tape

Heavy Duty Garbage Bags

Clay Cat Litter

Clorox Bleach, 

Lysol Wipes, 

Dawn Dishwashing Liquid, 

Lime Away, 

Window Cleaner, 

Scotch Scrubbing Pads

Batteries 9V, AA & AAA

New Vacuum Cleaner

Alcohol, Peroxide

Pet Toys for Shelter Pets

and most of all, Cash Donations. 
We know that Subaru lovers love animals!