Houston PetTalk is the definitive source for Houston pet owners to get information, tips, events and resources to make pet ownership in our community fun, easy and enjoyable. Our publication is monthly and best of all..it's free! Distributed to over 
700 locations
in Houston, Houston PetTalk can be found in veterinary clinics, boarding facilities, grooming shops, boutiques, restaurants and other retail locations (visit our Distribution page for more information).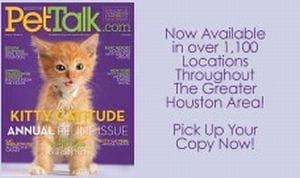 In addition to our distribution locations, Houston PetTalk can also be found at many special events including charity galas, fun-runs, yappy-hours, PetFest and other pet related functions. Also, Houston PetTalk is the Official Show Guide and a sponsor of the Reliant World Series of Dog Shows, one of the largest indoor shows in the U.S. that takes place each July.
So go fetch a copy…you'll love the informative articles on nutrition, training, health, grooming, adoption and lifestyle. You can also catch a glimpse of upcoming events and news so that you and your pet can have some fun together and be "in the know" about our pet community.
One last thing…don't forget to support our advertising sponsors. Houston PetTalk is home to some of the "Best In Show" products and services including boarding facilities, doggie daycares, boutiques, restaurants, adoption shelters, top-notch trainers, high quality food and treat manufacturers, artists and lots more. Go visit them…you and your pet will be glad you did!