CAP Special Needs Medical Fund
We have two fantastic owners.....Frank & Gloria. Gloria works endlessly with Citizens for Animal Protection. She has taken it to the next level and we are very proud of her. Gloria has added a new component to our partnership with Citizens for Animal Protection. A portion of our annual donations will no go to Special Needs Medical Fund that is dedicated for animals that come to the shelter and need additional medical care before being up for adoption.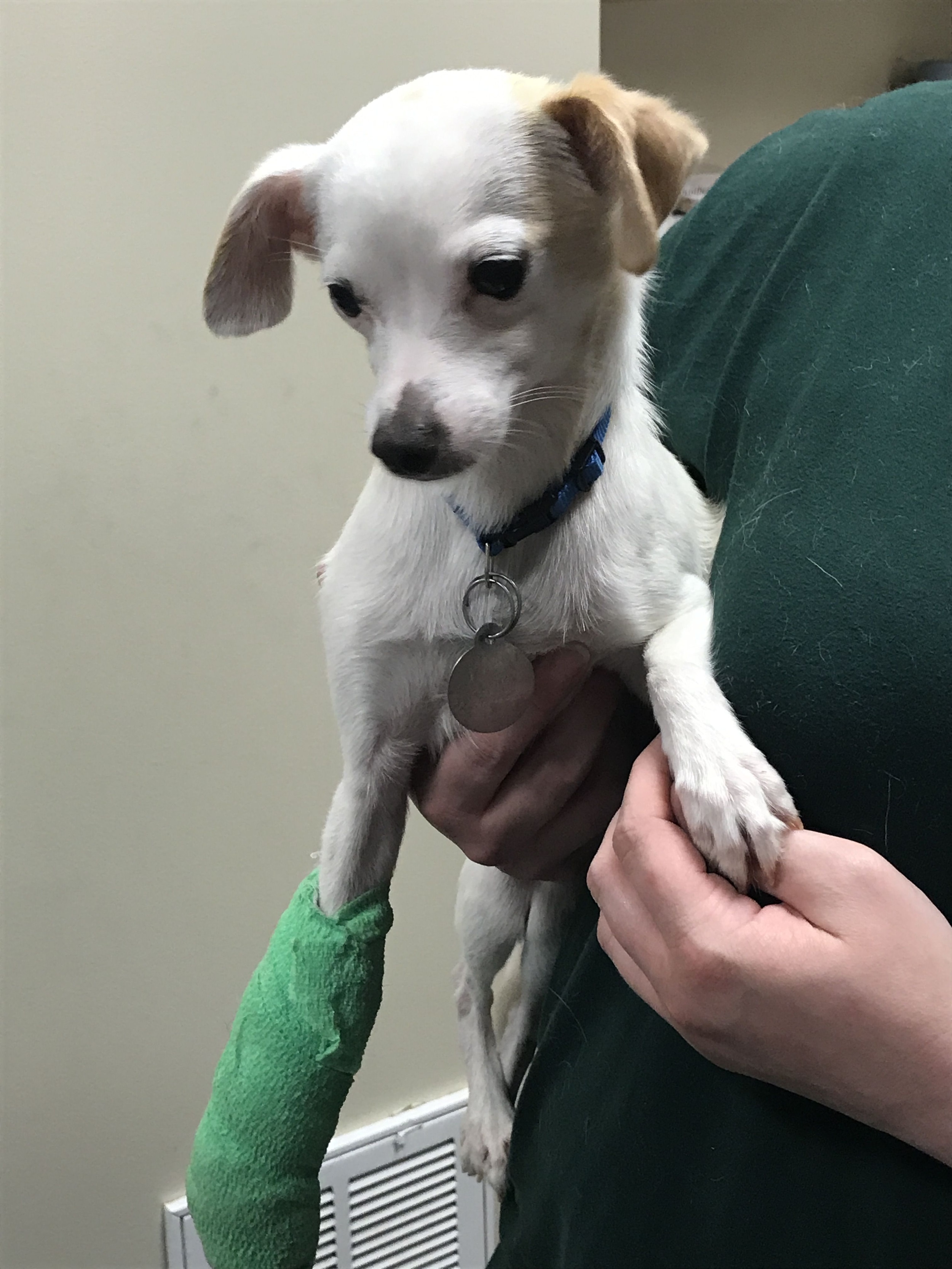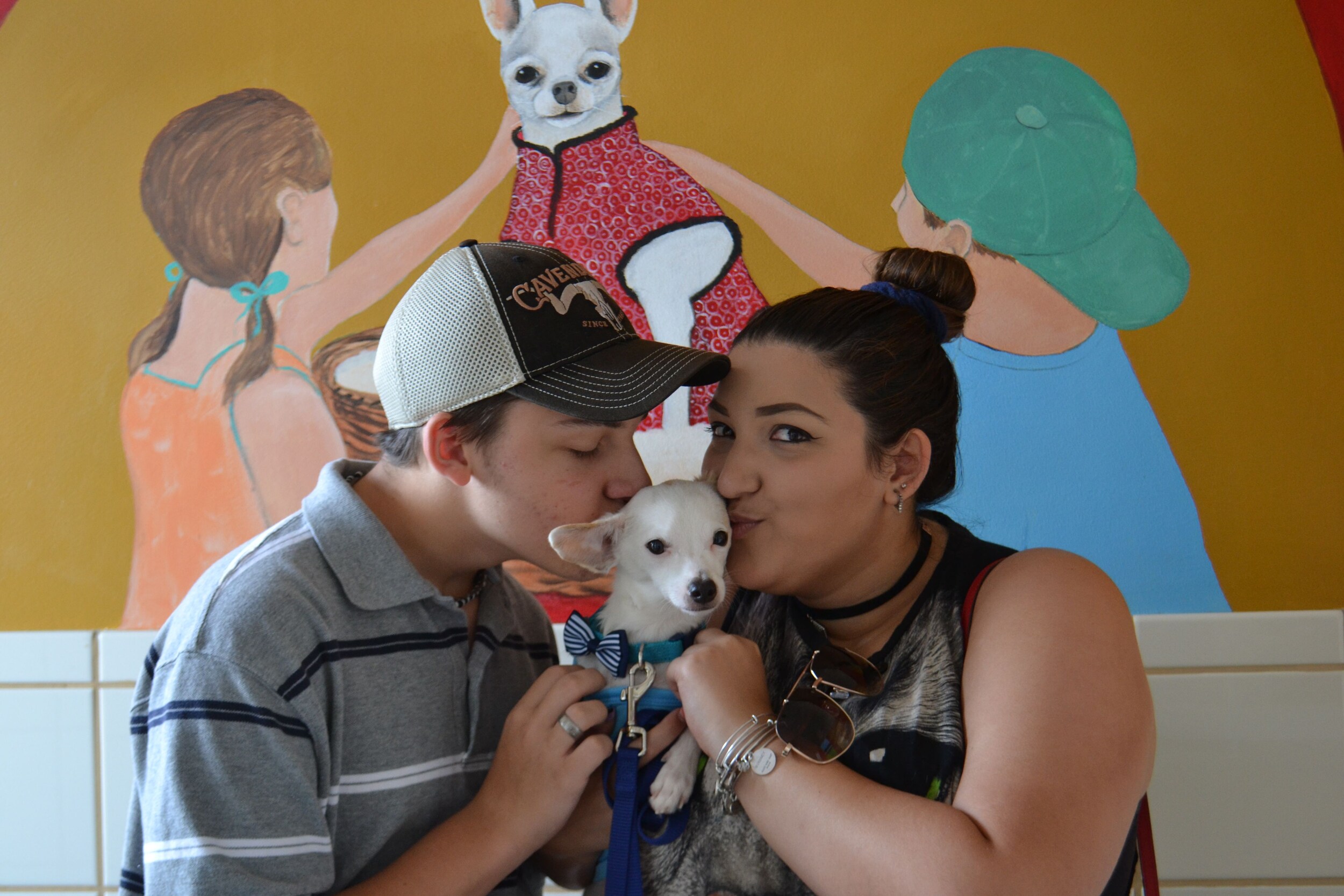 Our first pet has just completed the program and we are happy to say he has been adopted.His name is Frankie and he is a 10 month old chihuahua mix. He was originally adopted but returned to the animal shelter with a complete fracture of his left front leg. His medical condition was assessed and the best decision was a complete amputation of his leg. After his surgery, he went into a loving foster home for his rehabilitation. After a month of foster care, his condition was re-evaluated and he was once again ready for adoption. 

After a few weeks, we are proud to say that the adorable Frankie has found his forever home with the Pernas' family. They are pet lovers and had previously had a pet with 3 legs. They have 2 teenagers and Frankie will be spoiled and loved forever. He already loves to dress up in different outfits and have his picture taken.

We wanted to share this with you so you could know and share with others. We are so happy. It was heartbreaking at first but ended up with the happiest of endings! 
---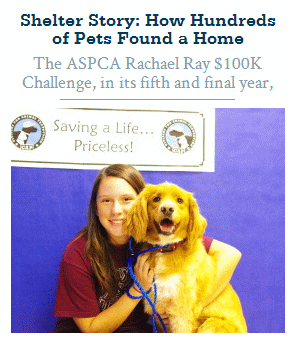 "If you adopt from an animal shelter, you know you're giving an animal a second chance at life. And you're giving an animal a home that they might have never had before," says JoAnne Jackson, director of operations for the 
Citizens for Animal Protection
(CAP) in Houston.

JoAnn and CAP's Executive Director, Kappy Muenzer, know a thing or two about helping shelter pets find new homes. Last year, CAP helped hundreds of animals find new families in the ASPCA Rachael Ray $100K Challenge. So many, in fact, that they saved 625 more lives than the same time in 2012, and they even won their division.  Read More
---

Thor is my Co-Pilot
Who likes the Subaru Crosstrek more? Thor or Mark
Thor is a Harlequin Great Dane that I obtained through the Great Dane Rescue of Southeast Texas almost two years ago.  Thor will be three years old on July 15th!  Thor loves to go for rides in the Crosstrek, so I have to say we both love the Crosstrek equally!!  Thor is my best buddy and I often take him with me.  His favorite spot is the dog park when he can play with all the dogs.  Thor is a very active boy and really a beautiful dog.  When I walk him we are usually stopped by some random car that wants to get a better look at Thor.  
West Houston Subaru is proud that most of our featured owners have adopted rescue dogs!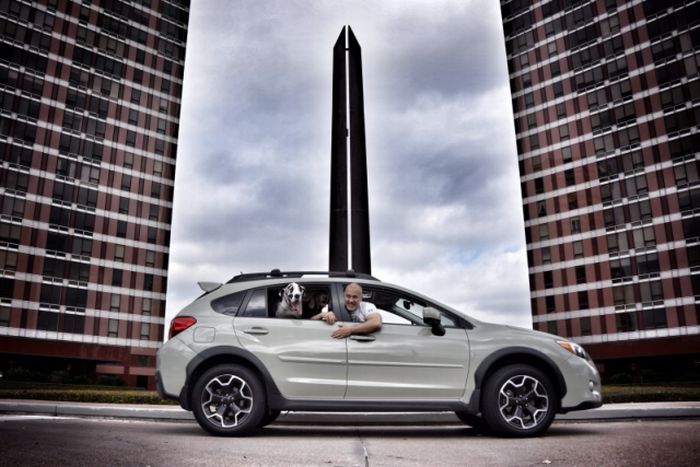 ---
Hunter is my Co-Pilot
Payam and his Weimaraner, Hunter, love their Subaru XV Crosstrek.  The cargo tray in the back keeps Hunter safe and sound. Hunter is a rescue dog originally from Bellville, Texas.  He pretty much goes everywhere Payam goes.  One of their favorite spots is going for a run in Memorial Park.  Payam and Hunter were our first place winners in our "Picture Your Pet in a Subaru" photo contest.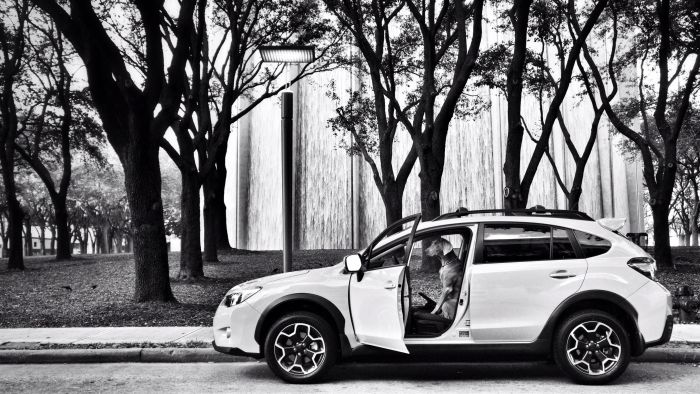 ---
Scruffy and Riley are our Co-Pilots
Suzanne and her daughter, Madelyn, love the extra roomy cargo space of their Subaru.  It is great to take Scruffy and Riley to the dog park and the groomers. 
Although Scruffy and Riley are best buds they are very different.  At the dog park, Scruffy draws attention by paddling in the middle of the pond trying to eat the bubbles that form!  Riley would rather pant in the heat than set foot in the water no matter how many balls are thrown in.  She leaves that up to Scruffy who also a master at stealing the other dogs toys.  Riley loves to socialize with the other dogs. Scruffy would rather jump on the people with his muddy and wet paws.  They make a great pair and we love them!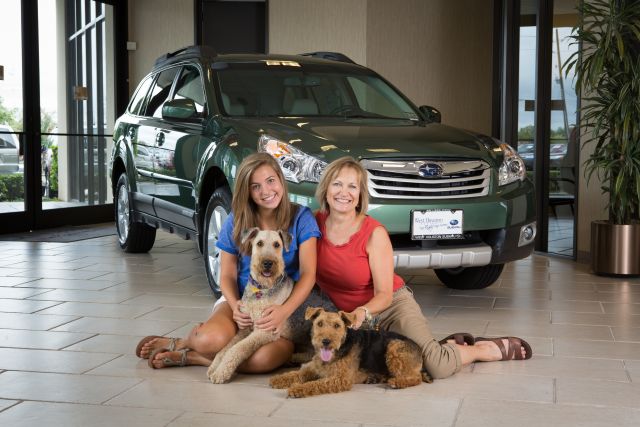 ---
Janet and Daisy
Janet and Daisy love traveling in their Subaru Forester.  When Daisy is not driving, she enjoys hanging her head out the back window. With two sibling standard poodles, Daisy really enjoys sharing the huge cargo area and the low floor which makes it easy for her to get in and out.  Janet loves that she can keep her Subaru for 10 years with practically no problems.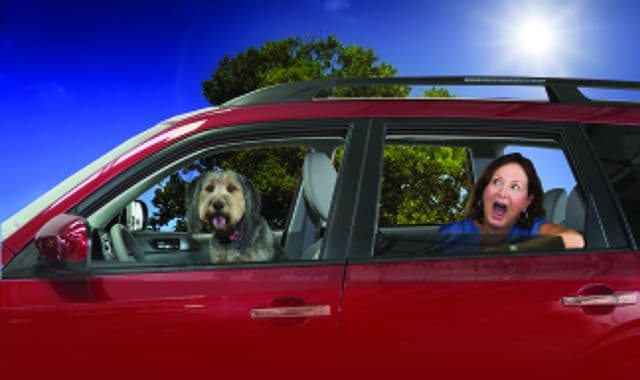 Daisy is the best little sister that her standard poodle brothers could ask for!  She may be the littlest, but she rules the house.  Daisy is first to the door when the doorbell rings, first to the kitchen for a cookie and first to my bed when it's time to go to sleep.  She and Jake play ALL the time-their favorite games are chase under the dining room table and tug-o-war with any squeaky toy.  She's very affectionate and usually wakes me in the morning by putting her head on my shoulder for a little rub.  Daisy is fearless when it comes to other dogs and people (she's still learning to be sweet to everyone), but she is very afraid of thunder.  During storms, she's usually curled up in my lap.
---
Tonya and Zola
Tonya and her husband, Stephen, love taking their Basenji, Zola, everywhere in their Subaru Forester from West Houston Subaru. They love the power of the turbo engine and Zola loves to unlock the doors and roll down the windows. They adopted Zola from BRAT (Basenji Rescue and Transport). 
She is our first dog, and we knew we wanted a rescue.  Basenjies are known to be very intelligent dogs that can also be quit mischievous, but Zola is extremely laid back and well mannered.  She loves to cuddle up with mommy and daddy to watch TV, or take a nice stroll through the neighborhood to find and chase squirrels.  Zola loves squirrels. Although, she can't figure out why she can't catch up to them!  Zola also enjoys the company of cats. Yes, she likes cats, although the feeling is rarely mutual.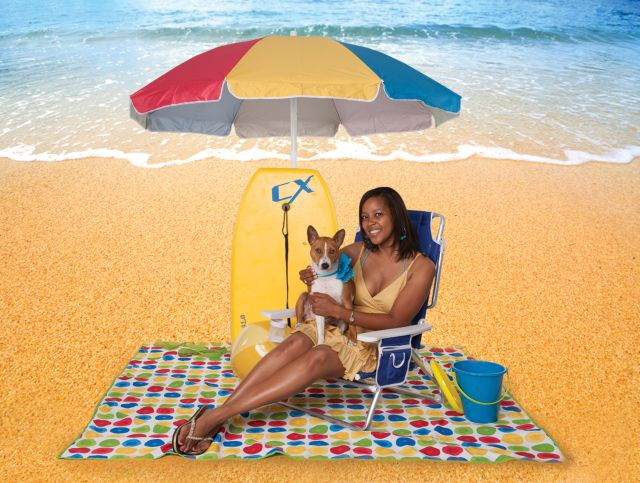 Zola loves being with her humans. She follows us around the house constantly, and also enjoys meeting new humans, in hopes that they will give her treats. She is a sweet girl that hates to see us leave for work, and loves it once we come home.  Her weaknesses, besides squirrels, are trashcans.  She loves to see what treasure may be waiting for her in a trashcan.  And she also loves toilet paper...... to shred to pieces!  
She also enjoys going to the dog park, belly rubs, and playing chase up and down the stairs with mommy and daddy.  Zola has brought our home a joy that we never knew we were missing. Now, we can't imagine a home without her.
---
Tim and Matilda
Tim and Matilda, his 6 month old E
nglish
 bull dog, love to ride in their West Houston Subaru 5-door 
STI
. Tim loves how it handles and how at the flick of a switch it has two different personalities - fast or economy. Matilda loves that she can climb in and out on her own and that the air vent is at face level.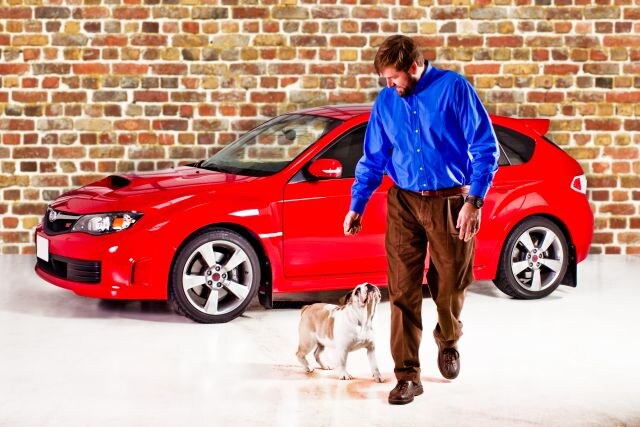 Matilda has two older dogs and a three-legged cat that she loves to play with.  Introducing her to the mix has made Tim's other dogs act much more like puppies. She and the cat have a special relationship that involves chasing each other all over the house and playful sneak attacks. Matilda loves to eat and would pull a train on her leash for food.
---
Dave and Binks
Dave and his wife, Mary, are so proud of their dog, Binks.  Mary volunteers at Abandoned Animal Rescue in Tomball.  Mary had always told Dave about Pit Bulls and what great companions they can make.  So when a Pit Bull mix showed up at the rescue they could not resist making her part of the family.  She was found living on the street during the summer with 100+ degree heat.  She was a puppy living in a spare tire.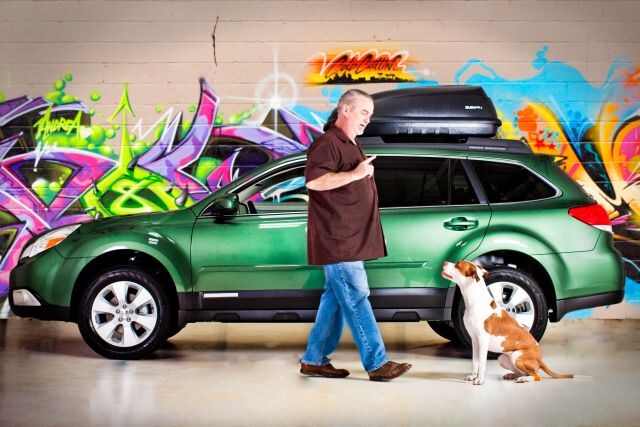 "Binks is such a great dog, just a joy in our lives.  She sure surprised us with how much personality she has. When she sees someone, she wags her tail so hard she wiggles her butt and at the same time walks with stiff legs.  It is really funny to see. We tried to decide how we could include Binks in an activity to get her some exercise physically and mentally. With our 3 Border Collies as her buddies, we thought she might like Agility. She never developed an interest in that. While in the backyard she scared us with how high she would jump chasing the thrown ball.  She would jump several feet in the air but the landing's made us cringe. We decided to take her to Rummy's Beach Club here in Houston and take a dock diving class with other dogs. She just loves it and once again surprised us. Of all things, she is a water dog. We saw how much fun she had going to Rummy's we decided to load the Outback with our three BC's to see if they would enjoy it too.  Again we were surprised that we had 3 other dogs that loved water. If not for Binks, we would never have thought to try Dock Diving.  She isn't a superstar but she sure has fun!"
"Our dogs sleep on our bed, but not Binks?.  Never have we had a dog demand that the covers be pulled back so they could get underneath them.  Binks does it  every night!  We go through the same ritual. It is great for us in the winter - we have our own personal foot warmer but this past summer it sure was difficult."
---
Pam and Squeegee
Squeegee is a 16-year old Red Tabby and was a dream at our West Houston Subaru Customer Pet Photo Shoot. He was adopted in Missouri and joined Pam's family when he was 5 weeks old.  He started traveling with them right away as their home was near Austin, Texas.  Pam and her husband love their Outback!  It hauls their kayaks, canoe and all their gear beautifully.  The rubber mat in the cargo area is great to keep Squeegee's kennel from sliding around.  Squeegee loves walking on a leash and meeting people.  
Squeegee is a diabetic. Fortunately they no longer have to give him insulin, just keep him on a very strict diet. So he does not get food treats anymore. His treats now are a good brushing, or a walk outside with his leash of course, or play time with one of his catnip toys.
He is the most laid back, gentle cat Pam has ever known. He was raised with a rambunctious Border Collie and is comfortable around dogs. 
Whenever Pam sits in her reading chair, or sits at her desk and computer, she usually finds him jumping onto her lap. He holds her book or papers for her. He is so helpful. He even cooperates nicely for baths and teeth brushing! He is such a love! He is happiest when he is with people, whether they are at home or on the road in our Subaru Outback.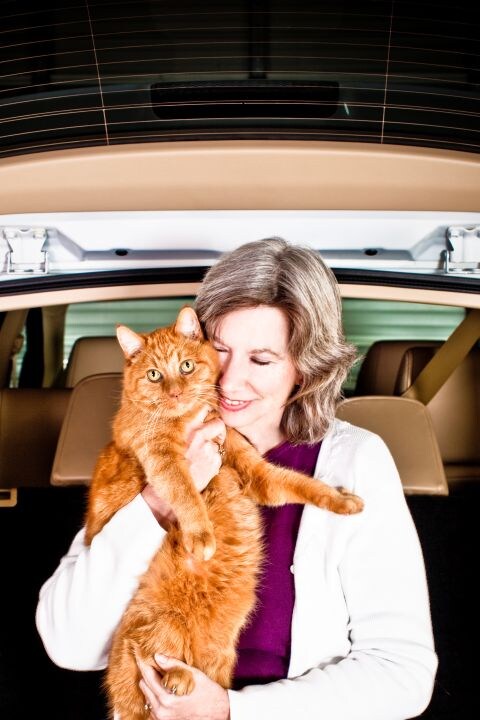 ---
Kim & Woolie
Woolie fits perfectly into the backseat of Kim's West Houston Subaru Forester. He is an Old English Sheepdog and Great Pyrenees mix that was rescued from Austin. Every morning, he runs to the passenger rear door because he doesn't want to be left behind. Even at 12 ½ years old, it is easy for Woolie to climb into the back seat to watch the scenery through the large visibility windows of the Forester. He goes everywhere with Kim.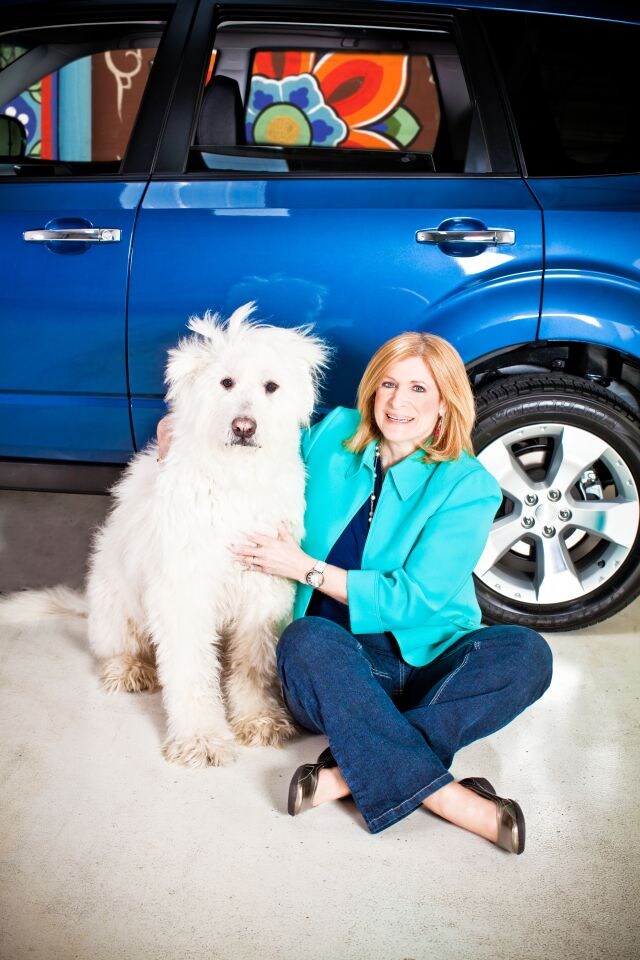 ---
Jon, Sandy & Jada
Jada is a German Shepherd-Collie Mix that is always ready to go. At our photo shoot we found out she loves to be inside the car but is not crazy about getting close to a black car. She was so much fun.
Her owners, Jon and Sandy, shared some interesting info about Jada.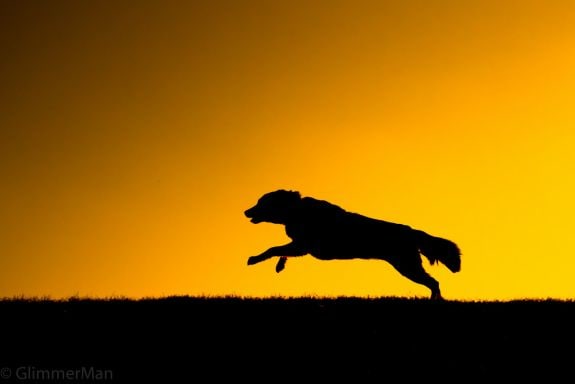 Jon is quite the photographer and wanted to share one of his favorite photos of Jada with us.
"We picked up Jada from the local Humane Society about 8 1/2 years ago on a late spring afternoon. She was the calm and confident one in her litter, unfazed in the chaos of the kennel. It turned out, though, that she's full of fire too: Eight days later she chased an intruder from our back porch, like 50 pounds of napalm in a 10 pound bottle! She's been our companion for 8 ½ years and we couldn't be luckier.
A few years ago Jada had hip surgery, gaining a full replacement in one hip and a reshaping of the other. It was a tough rehab, but our girl doesn't have a Stop button. These days J's stronger than ever. Nothing makes her happier than a hike at her favorite park, Stephen F Austin -- except perhaps an even longer hike up at Huntsville. And our Forester is a snap to pack, has plenty of room for Jada in the back, and gets us around safe and sound.
---